Start Or Grow Your Business Online With Conversion-Focused Marketing Tools, Education and Opportunity
Looking For Success Online And Need An Easier Solution Because You're Not A Techie Geek?
Click Play On The Video Above To Learn How eCreate.it Can Help You!
eCreate.it Gives You ALL THE TOOLS You Need To Market, Sell and Deliver Your Products Online At An Affordable Price!
See how eCreate.it can help your business in 3 simple steps
Sign up as a customer or reseller & get started in minutes. 
Get paid when you refer our tools to others. Training provided.
"Ever Wanted To Grow (or Start) A Business Online But Couldn't Put All The Pieces Together Because It Was Too Technical, Expensive, Or You Just Didn't Know Where To Start?"
If so, let me show you how one company has changed the game when it comes to growing or starting a business online.
FINALLY there is ONE PLACE to get all of the marketing tools and training you need at an affordable price.
Say Goodbye to "piecing together" expensive online tools that are just too complicated to use and leave you spinning your wheels in frustration!
Now you can take your BIG IDEA and make it happen because you are no longer held hostage by technology!
If you are in:
- Business to Business
- Information Products
- e-Commerce
- Professional Services
- Selling to Consumers
- Network Marketing
- Or want to start an online business because you want a better life
These TOOLS can help you finally reach your goals!
Designed So Entrepreneurs Like You Can Easily Build Marketing Sales Funnels That Are Proven To Convert!
No need to be a programmer
No need to know how to design webpages
Let Me Show You How It Works In 3 Simple Steps...
STEP #1: Pick Your Marketing Funnel
First, pick the type of marketing funnel that is pre-designed to sell your type of product or service.  These funnels are designed for top conversions so you can start sending traffic.  You can build industry specific lead magnets, product launches, webinars, membership site funnels and more...
STEP #2: Modify The Pages
With our drag and drop page builder anyone can easily modify our professionally built page templates to match YOUR message with a few simple clicks.  If you can do email, you can do this!
STEP #3: Connect Your Funnel
This is where eCreate.it shines.  Your marketing funnel is automatically connected with our built in email marketing tools.  All you need to do is customize your emails and you are done!  Or connect with dozens of others marketing goals to give you options.
Every Step, Every Page, Everything Is Done In Minutes!
You have complete control

.  Change the headlines, add your own images, put in videos and countdown timers to maximize your results.
Simply drag things on the page, move things around, edit them to say what you want and click publish to go live!
It's easy for beginners

plus has flexibility for those that enjoy getting in and customizing the finer details.
See How eCreate.it Can Help Your Business In 3 Simple Steps
Sign Up As A Customer or Reseller & Get Started In Minutes. 
Get Paid When You Refer Our Tools To Others.  Training Provided. 
You Don't Have To Be A "Techie Geek" To Have Success!
With the power and simplicity of

eCreate.it

you can turn your Big Ideas into REALITY... And Money!
No longer do you have to rely on hiring a tech team or web designers who hold you hostage and take weeks or months to deliver (if ever) and charge you an arm and a leg to do something! Until now, this has been very complicated for the regular entrepreneur.
eCreate.it Gives You EVERYTHING You Need To Market, Sell and Deliver Your Products Online.
All Your Marketing Tools In One Convenient Home At An Affordable Price...
Not only can you launch high converting marketing funnels but you can say goodbye to all of your other high-priced marketing tools that you might have with other companies because

eCreate.it

is your complete marketing tools suite for one low price.
Now you can replace your

website hosting, shopping cart, email marketing, membership site and Online Course Creators

with one easy-to-use and affordable tool suite!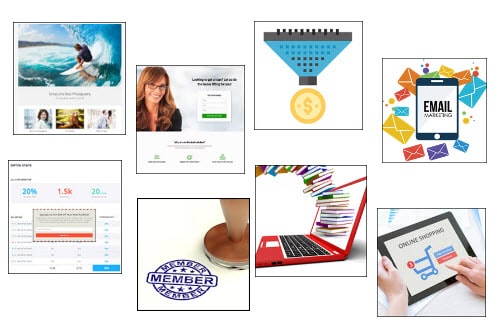 For a fraction of the cost you can now use ONE TOOL SUITE and simplify your marketing and life. 
Unless your business is where you want it to be, you will want to get your

eCreate.it

tools right now and see how simple it can be.
What People Are Saying...
Robert Lapins
Michigan - USA
Let Me Show You Everything You Will Get When You Join eCreate.it Today!
Total Value $10,627 / Year
Get Started Today For:
$35!
Is There A Guarantee?
For sure 🙂 - We guarantee that you will LOVE eCreate.it, and if for some reason you decide later you don't want to be a member anymore, then we will happily cancel your account. If you want a refund, you are more than welcome to ask. We offer a 30-Day money back guarantee.
What Is This "Opportunity" About?
eCreate.it markets it's products via referrals and offers a unique Reseller program for those interested in creating extra income (Training provided)!  Check out "See The Opportunity" below for details.
Here's What To Do Next:
From here just click the "Start Your Account" button below, pick which subscription you would like to be on and complete your order.
See How eCreate.it Can Help Your Business In 3 Simple Steps
Sign Up As A Customer or Reseller & Get Started In Minutes. 
Get Paid When You Refer Our Tools To Others.  Training Provided. 
Frequently Asked Questions
Do I have to install anything?
No. 🙂 The reason we created eCreate.it is to make your life easier.  You don't need to hire an I.T. department to run your website.  Just login, start clicking and build all of the pages you need with our simple drag and drop editor.  If you can do email, you can do this!
What About Support?
We have you covered there! eCreate.it it offers email and live chat support for all it's customers and Resellers so you are there when you need us.  We also have a large customer user community that love to help and share ideas inside of our forums and Facebook groups.
Are my funnels, Websites, tools secure?
Yes! Security is a top priority at eCreate.it and we have dedicated teams and solutions to protect you from "Bad Guys" and Hackers.  You don't have to worry about staying up-to-date with plugins or software updates as everything is managed for you in the background.
You Tool Suite is also secured with SSL out of the box via our special relationship with CloudFlare.  That means all of your pages are HTTPS and have the green secure lock.
Can you handle the load?
Yes! eCreate.it is a fully managed professionally hosted solution which has been built for scalability, reliability and security.  We are also backed up by CloudFlare Security + CDN to ensure your sites run fast and smooth.
Can I use my own domain name?
Yes! Your eCreate.it tool suite will be provisioned on a secure subdomain like username.ecreate.it - If you would like to use your domain name we have can show you how to use a domain name you already have or how to register a new domain name and point it to your tools.  For example if I had the domain Bob.com I could use that for my website and tools.
What about backups?
Yes! All off your data is backed up on a regular basis in multiple secure locations.
How long are your contracts?
There are NO long term contracts or commitments!  eCreate.it is month-to-month and you can cancel at any time you'd like!
Who owns the data / content / subscribers?
You do! You own all data and content you create.  eCreate.it does NOT have permission to use that content or contact any of your users for any reason.  We are simply the tools for you to deliver your value to your customers.
Can I host the pages myself?
No. eCreate.it is a hosting company, so all of your funnels and website pages will be hosted with us.  There are different ways to integrate with pages not hosted by us which you can learn to do in our help guide.
Is this WordPress?
Yes! The core foundation of our tools are based on WordPress. If you are familiar with it you will see some similarities, however we have designed a solution that is much easier and secure to use than regular WordPress.  Everything is managed for you so you never have to worry about updates, plugins or anything that typical WordPress users have to deal with.
Can I install plugins?
No. We have designed a solution that meets the needs of 95% of all marketers online so you don't need to add plugins that can slow your site down.  We are always improving on our features and functionality and if you feel a certain plugin would be beneficial feel free to contact support with your suggestions.
Can I import my existing website to eCreate.it?
Probably not. You will be able to copy and paste your existing content in our easy-to-use builder however importing websites from one platform to another never works, and it's much easier to copy and paste your content over or start from scratch.  Don't worry it's easy. 🙂
If I cancel my eCreate.it account, will I lose my data?
As with most "software-as-a-service" platforms, when you cancel your account, your data will become inaccessible.  But no need to worry, if you decide to cancel you can export your contacts and members data.  Your site will be "paused" and we will keep everything backed up for at least one year so you can come back again later!
If I don't like eCreate.it, how do I cancel?
Simply login to your account, click the little blue icon at the bottom to initiate a chat conversation and let support know you want to cancel your account and our support team will take care of it for you. 
Can I integrate my favorite autoresponders / shopping carts into eCreate.it?
Yes, while we suggest that most people only use eCreate.it to run your business, we know some of you have your own favorite tools you've used in the past. We integrate with most of the top service providers to make your tools and funnel building process easy.
We are a BIG believer in giving our end users options when it comes in integrating with other platforms.
Do I have to host my main website with eCreate.it?
No you don't. We encourage you to do so because all of our tools work so well together. But if you want to host your main website with someone else and just use the eCreate.it tools you can totally do that.
If I have questions, is there someone to talk to?
Yes! We have a top tier support teach who can answer your questions when you have them.  On any of our pages just click the little blue icon and initiate a conversation and we will be happy to get back with you.  We also have a very strong user-supported community with people just like you who like to answer questions as well, so feel free to join in there.
Do I have to be a Reseller or join the business opportunity to be a customer?
No you do not. Our company is built on the foundation of our customers.  Many of our customers fall in love with our tools and want to share them with others.  You can always upgrade to a Reseller later if you want to earn commissions referring these tools to others.
When I go to the order form I see an option for Customer or Reseller.  Which option do I pick?
If you would like to be a customer only pick the CUSTOMER option.  Customers can purchase any of the eCreate.it products or services.  RESELLERS can participate in our business opportunity and earn commissions referring our service to others.  Resellers receive a 25% discount on product purchases and there is a $25 a year Reseller fee added at the time of signup.
I'm at the order page and it's asking for the username of the person who introduced me to eCreate.it. What do I put?
Because eCreate.it is marketed by our network of Resellers you have to be referred by someone before you can become a customer or join as a Reseller.  Please get back with the person who invited you here and ask them for their link or username.  You can usually find this in the email or message that originally brought you to our website.
See How eCreate.it Can Help Your Business In 3 Simple Steps
Sign Up As A Customer or Reseller & Get Started In Minutes. 
Get Paid When You Refer Our Tools To Others.  Training Provided. 
YES! We practice what we preach! This site was created using The eCreate.it Tool Suite!
 212 E Crossroads Blvd Suite 136, Saratoga Springs, Utah 84045, USA
© 2018 The Info Marketing Group Inc. - All Rights Reserved
30 Day money-back return policy after you have placed your initial order or if you have had a subscription billed on any of our products.  All products ordered are digitally delivered immediately after you order inside the members area.